I'm writing now as we begin our journey back eastward, towards home. After visiting all the states we've visited, we find ourselves being asked, which state did you enjoy the most? Though no state we have visited has convinced us we need to move away from Michigan (I am very steadfast in this mindset), Utah's parks took the cake. If you're looking for a national park experience in the spring, Utah's your place. We spent a lot of time hiking and enjoying the temperate desert temperatures. I'm guessing if we were to visit in the summer, I'd feel differently, but we were there in March and it was (mostly) wonderful…there was some snow in the mountains.
Other posts about our journey:
Dead Horse Point State Park, Utah
We found a good basecamp for our Moab exploration at this state park. It was very far away from Moab itself, but it was close to Canyonlands and was affordable-ish for Utah (I have to say campsites have gotten expensive in many places). No cell service and very nice campsites and electricity which we prefer when we need to leave Nora in the pod while we hike in national parks. No showers because water is scarce in the area so that was a bit rough. But the best part was the ONE sunset we got in Moab. It was the first night after arriving, we drove down to the canyon overlook and had the most beautiful sunset. It's quite a gorgeous state park and highly recommend a visit.
Arches National Park
In Moab, we split time between Arches and Canyonlands, but went to Arches twice. I felt the hiking was accessible enough for us (meaning all the hikes weren't terribly long or difficult). There's a lot of hiking to be done in Arches, but we did pretty much all the easy to moderate hikes and enjoyed them (except the one where the trail was very lost and there were no markers which was very unhelpful). I've surprised myself with how much I actually enjoy hiking and I'm capable of a lot more than I thought I was!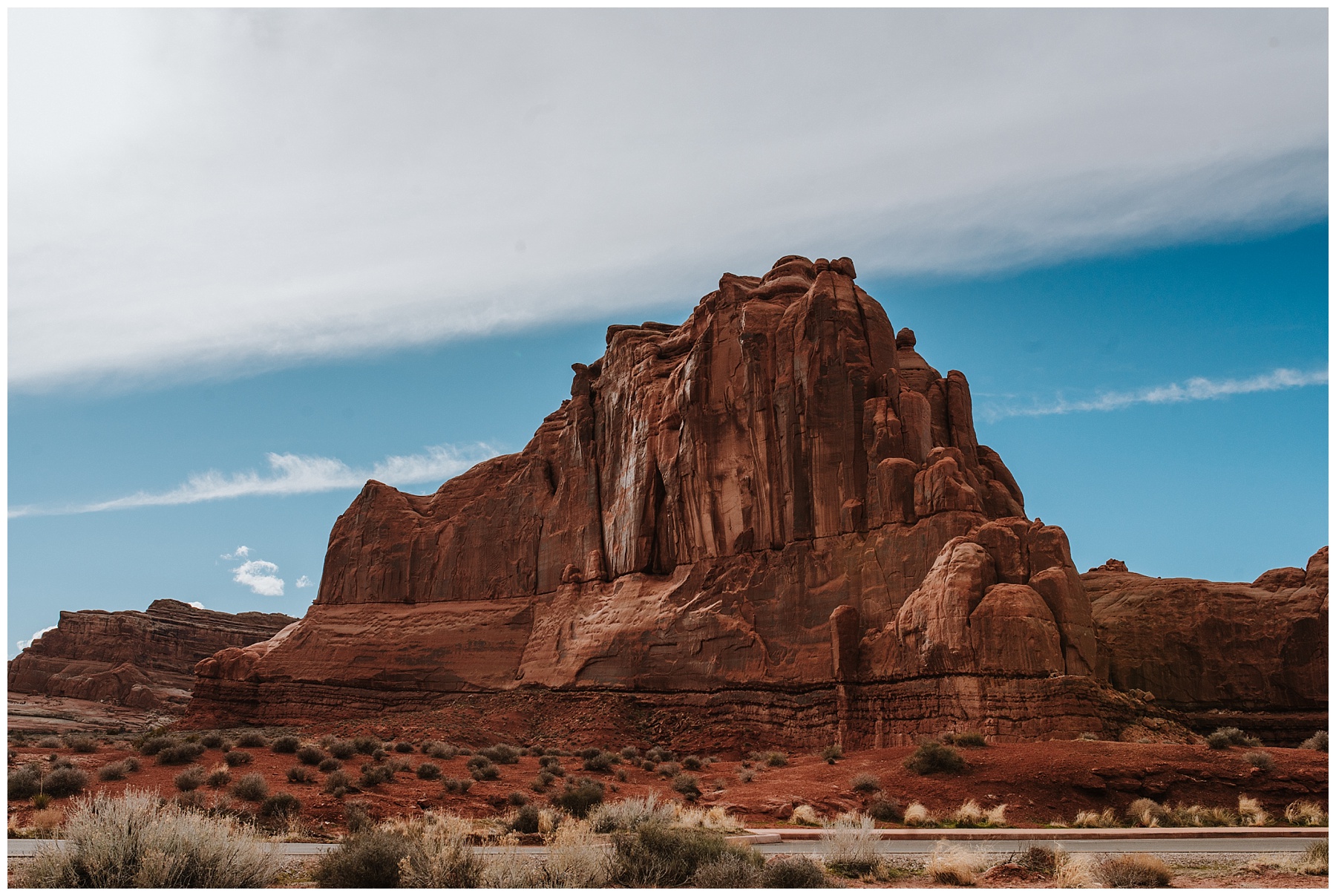 Canyonlands National Park
The next morning, we got up early and caught some of the sunrise at Canyonlands. There is a beautiful spot for sunrises there, overlooking an arch, but as you can see, when we got there, it was filled with photographers. It's always a bummer to be in this huge park, which isn't as popular as Arches, and be with a crowd. I thought it was hilarious that so many people were set up in the exact same spot with their tripods. I haven't used a tripod on this trip…I'm not here to take "serious" photographs (and I almost never use a tripod when photographing for my business…too tedious). But we got a few photos once the serious photographers decided it was too bright for them. Then we drove the park's scenic road and did a hike. Many of the hikes in Canyonlands were on the harder side so we did what we could.
Capitol Reef National Park
On our way to Zion and Bryce Canyon, we decided to go through Capitol Reef and stay just a night. Again, this park is a little more remote (we had to drive 20 miles to get a cell phone signal), but very beautiful. We did the scenic drive and one hike (beautiful arch), and spent the night in the quiet campground where we barely got a radio signal.
Grand Staircase Escalante National Monument
While driving to our campground near Bryce Canyon, we drove through Grand Staircase Escalante National Monument, which included some snow in the mountains. We took the scenic highway 12 drive, one of the most beautiful drives of our time on the road. Did you know that the monument was one of the last places in the United States to be mapped? It happened just over twenty years ago!
Kodachrome Basin State Park
Utah was one of the more remote places we have stayed. Again, at Kodachrome Basin, which we wanted to use as our base for exploring Grand Staircase and Bryce Canyon, we didn't have any cell service, but we did have the nicest showers ever to be at a campground. Unfortunately, a bit of a cold streak came through the area as we settled in and we had some major winds and bitter cold temps that forced us to leave camp a little early and head to Zion. But we did get in a hike with Nora, who loved exploring alongside us.
Bryce Canyon National Park
Even with the snow (hello elevation change), Bryce Canyon was gorgeous. We couldn't do much hiking due to snow (we did one short hike), but we enjoyed seeing the amphitheater covered with white.
Zion National Park
With the cold and snow continuing near Bryce, we decided we should use our time better and peace out for Zion, where the weather was much more comfortable. I'm glad we did because Zion turned out to be one of our favorite stops of the trip. The best part was that the park has a shuttle system so NO DRIVING for us!
While in Zion, we did a few hikes, though many that we thought would have been fun were closed. The most exciting thing we did was hiking the Narrows, which requires you to wade in the Virgin River as you explore the canyon. Josh was really excited to do it, while I was very nervous, worried I'd fall down or there'd be a flash flood or something. But he convinced me and we rented the proper equipment to do the hike in the icy cold water. We weren't cold the whole time and we even made it to Wall Street, where the canyon narrows to about 20 feet or so. You could go for miles, but we turned around there because the flow was too much and we were hiking upstream. I'm glad we did it and I felt so empowered by the whole experience.