As I write this, I'm back home in my comfy little Michigan house, and California seems so far away (it was over a month ago that we traversed into the HUGE state). This post is a long one, but we saw a lot and it still feels like we didn't scratch the surface.
For those that will ask…no we didn't make it to Yosemite. We really really wanted to. But at the end of March, there is still snow in the mountains there and we weren't sure what exactly we could do (it's a crapshoot until you get there) and we didn't want to risk taking the trailer through snow. So in the future, it's on our list. But we weren't disappointed with what we DID see in Cali.
But first, let's start in Nevada, where we made a quick stop outside of Vegas.
To read other parts of our adventure thus far:
Lake Mead National Recreation Area
For our first dating anniversary and my birthday (which happen to fall two days apart), Josh surprised me with a trip to Las Vegas. Neither of us had been before, but we decided to hit up Red Rock Canyon National Park rather than head out to see the Hoover Dam (mostly because we hadn't planned ahead). So since we were out in the area, we wanted to make a stop to see this engineering marvel. We stayed basically next to the dam at Lake Mead National Recreation Area, where we were treated to some lovely sunrises (though I didn't get my camera out for them).
Hoover Dam
The superstar of Nevada: the Hoover Dam. Though we thought that the cost for the tour was a little too high ($30), especially for something that supports itself with the dollars generated through selling the electricity, we figured, what the heck it's a one time thing. Most impressive was the art deco elements of  the dam…one wouldn't think that a dam could be artsy but there you have it.
As part of our tour, we went inside the dam and even saw one of the turbines right out on the floor, which doesn't happen all the time. It was cool to see some of the history and marvel at all the concrete!
Valley of Fire
A quick stop on our way out of Nevada, we drove through Valley of Fire State Park, which would be a great place to stop if we ever make it back out here! Although the red rocks weren't as good as Utah, they were still pretty impressive!
Death Valley National Park
Welcome to California and one of our three national park stops in the state. Death Valley is truly remote, very much in the middle of nowhere. I don't think either of us anticipated that for some reason. We had trouble finding a gas station and paid the most we have ever paid for gas in the park: $4.53, but there was no other option! There was NO cell service, NO grocery store, and HARDLY any people.
We stayed very far outside of the park in a town called Tecopa Hot Springs and spent a lot of time driving through no-man's-land-California. The funniest part of our time there was that it rained both days. If you don't know, Death Valley is actually one of the DRIEST places ON EARTH. And it rained both days we were there. HA!
We both stood in the lowest spot in North America on the salt flats (282 feet below sea level) which was a weird feeling…like too much oxygen hitting you. Keep in mind, we had also been in elevation like 8,000 feet in Utah, just a few weeks earlier. However, the scenery in Death Valley is truly unlike any other we saw. Though we could not do many of the hikes we preferred to do (they were closed…of COURSE), we still were able to enjoy the sand dunes versus the mountains versus the salt flats.
Joshua Tree National Park
Joshua Tree, which has become very popular in recent years, was our last stop in the desert. We had been in the desert for months (and experienced rain and snow), and were ready to say "see you later," but both of us thought if we couldn't get to Yosemite, we'd head down to Joshua Tree and see what the fuss was about.
The best part about the park was it wasn't remote. This was a relief for us after Death Valley…being out of cell service made it impossible to plan on the fly…which is what we were doing most of this trip. It's seemingly impossible to plan every element of a three-month trip in advance.
Joshua Tree was a beautiful park. The ugly trees are somehow charming. There were just so many people. SO. MANY. But we were able to experience the Cholla Cactus Garden at sunrise and do the hike up Ryan Mountain, the highest point in the park. The hike was strenuous, but we made it through (Josh had to coach me to the top, I'll be honest).
Many of the hikes were longer (we are moderate hikers), but we did do a hike to an old gold mine which was accessible for us and gave some nice views of the park.
Big Sur, California
If we couldn't go to Yosemite, we were definitely ALL about living out the California dream of driving the Highway 1 Coastal Highway as much as possible. So we did. From LA to Carmel, we drove the coastal highway…and it was SO beautiful. It took a long time to get anywhere due to the two lane road and curves (even longer with the trailer), but we were never scared or worried. Plus, it seriously was too gorgeous to even care that it was taking way longer than we wanted it to.
We stopped mid-way in Big Sur. Unfortunately Nora again wasn't allowed to hike with us, but we explored the state park there, as well as another coastal park. The jagged coastline reminded me so much of Ireland, which is one of the most beautiful places I've ever visited.
Most of the coast wasn't super developed, so it was a nice hideaway after Joshua Tree. Plus, we were just damn happy to see some green.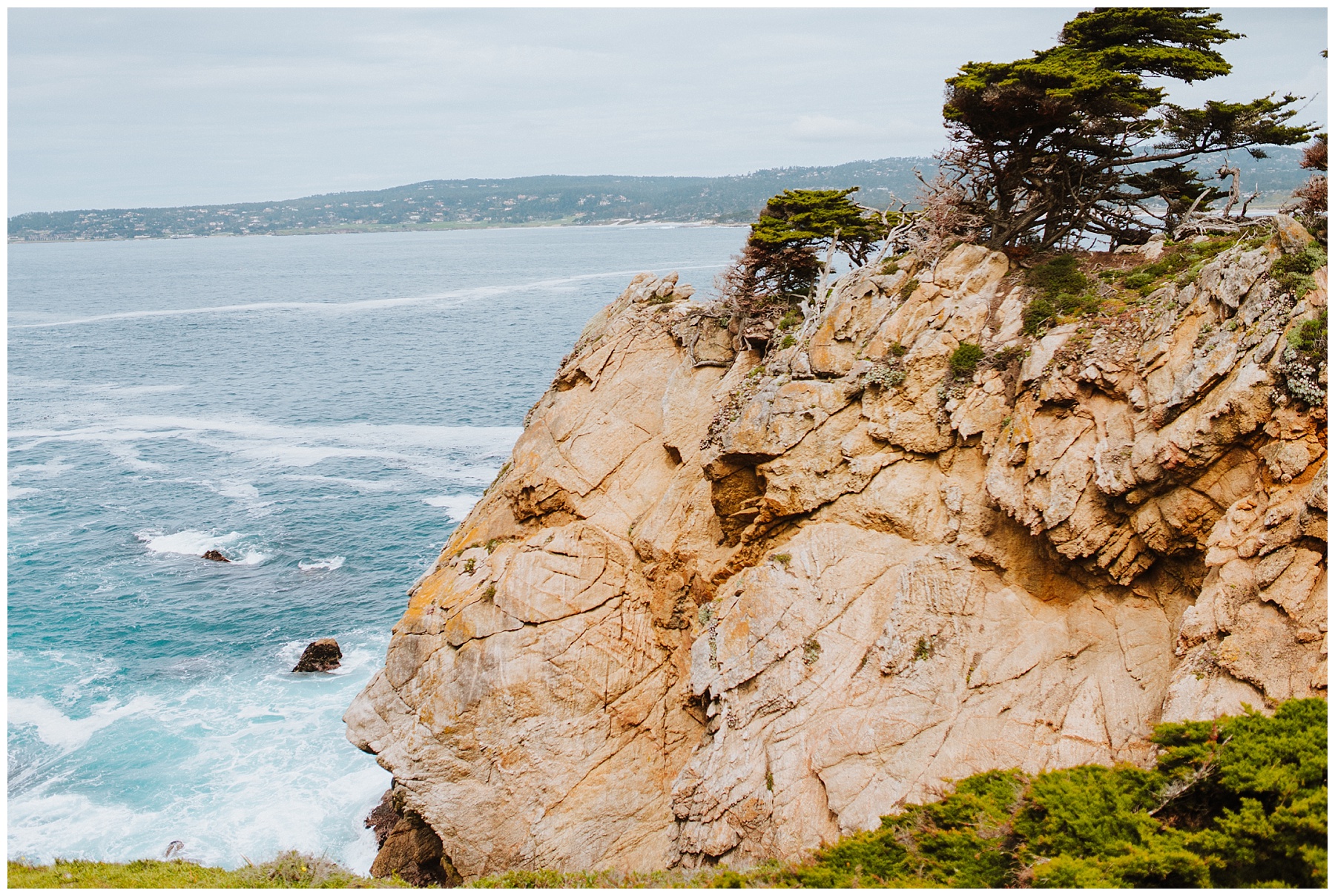 San Francisco
We did one big city in California: San Francisco. We were both really excited to visit, but left a little disappointed (except for the food we ate, so much yum). I'm not exactly sure why, and I don't think either of us put our finger on it, but maybe it was just the fact that camping outside of a big city is actually not that fun and expensive even though you're not really spending time there.
The scenery was gorgeous and the homes are everything you'd imagine them to be. Nora even accompanied us on our big day in the city. But I think the highlight was the Chinese dumplings we had. So good!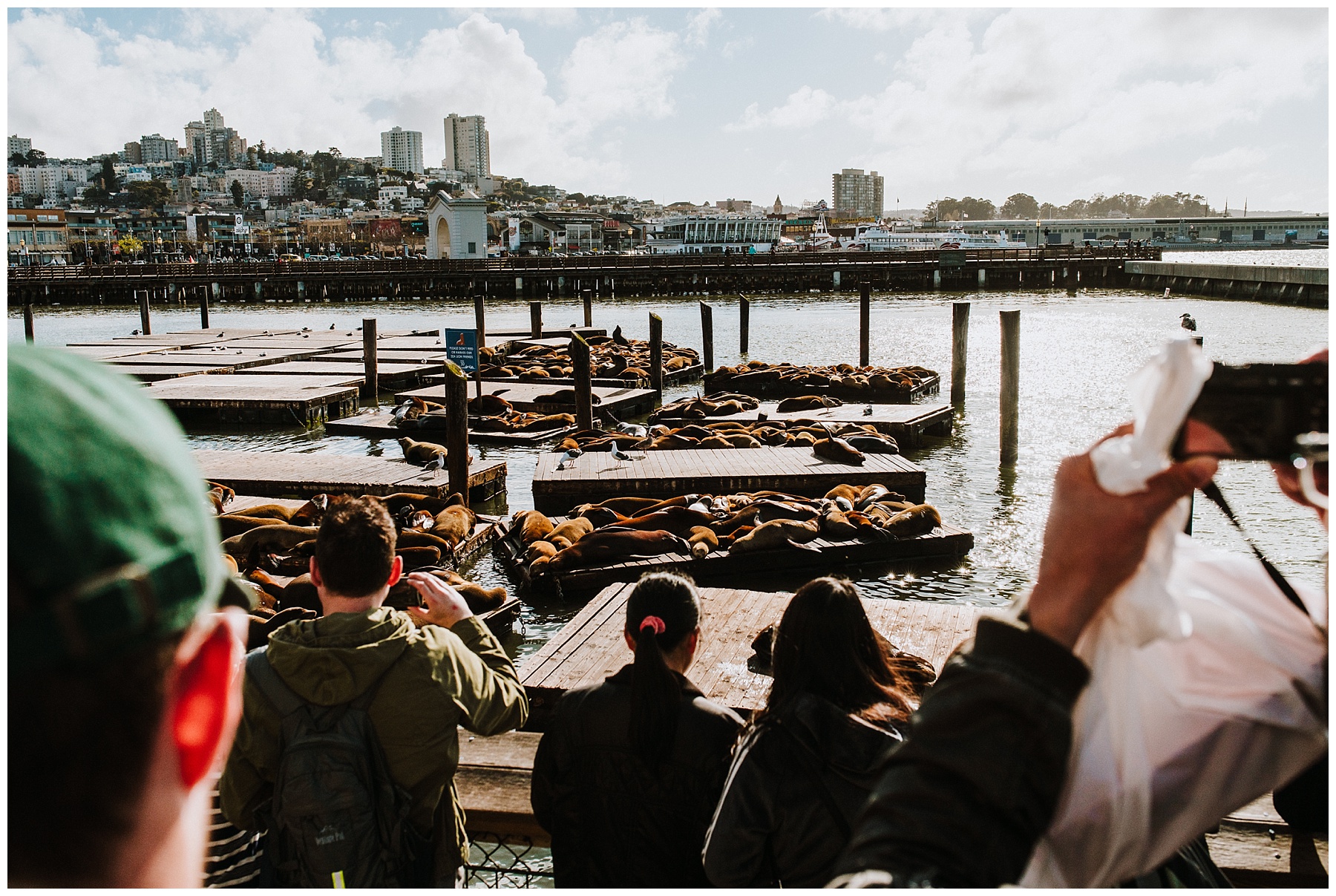 Redwoods National Park
Our last stop in California was Redwoods National Park. At this point in the trip, we began to experience a LOT of rain. When I say a LOT of rain, I really mean it. It felt like everything was wet all the time. If you've ever camped in a trailer in the rain (or even a tent for that matter, you know what I'm talking about. Condensation. Wet rugs. Can't keep it clean. It bothered me into the PNW.
But seeing the huge trees was surreal. They really didn't look real to me. This is the only place in the world where they grow and it's unbelievable how old these trees are; some are 2000 years old! HOW!?